World Cow Cozy Sweatshirt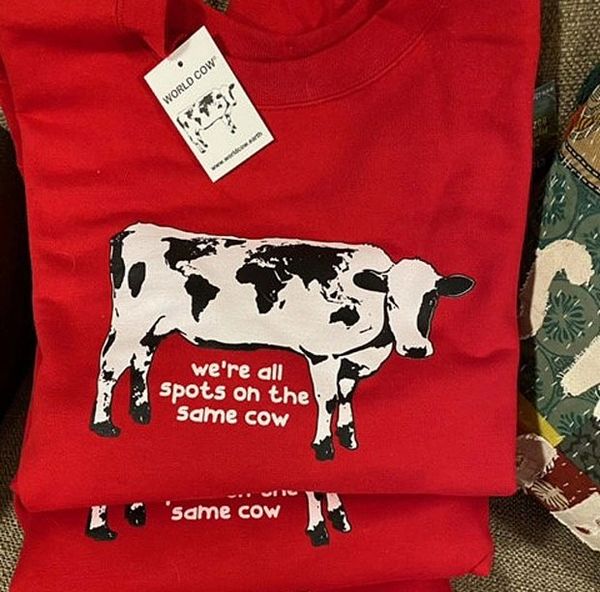 World Cow is a global brand and art movement promoting unity. 
Imagine a time when everyone in the world puts aside their differences and works together. S
ince Vermont artist DJ Barry started the project in 2016, t
he characteristic black-and-white Holstein with a coat resembling a world map has been a big hit in numerous locations around Vermont and, in collaboration with other artists, is popping up around the globe. Keep a lookout in your neck of the woods and you might spot the iconic world cow. 
The theme of his campaign is to promote peace and kindness and raise money for charitable organizations. 
Let's spread the message of love and unity far and wide! Makes a great gift. 
Now available in cheery red! Screen printed in Vermont. 50% Cotton / 50% Polyester blend.  Made with up to 5% recycled polyester from plastic bottles. Keep cozy and help us promote kindness and unity. We're all spots on the same cow. #worldcow
Sizing:(around the chest and length from shoulder to hem)
Small - 40 inches, 26.5" length
Medium - 44 inches, 27.5" length
Large - 48 inches, 28.5" length
XL - 52 inches, 29.5" length
XXL - 56 inches, 30" length