Transparente Printed Jumpsuit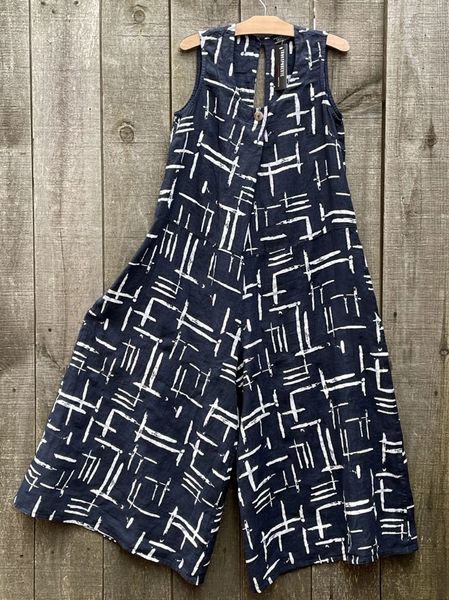 Beauty Has No Size, Beauty Fits All

Transparente is a European plus size fashion line, inspiring women to inspire the world. 
Designed in Germany, Transparente cultivates an avant-garde style through trendy fabrics and innovative designs that satisfy women of all shapes. Truly ageless and timeless fashion. This adorable jumpsuit is made in a navy linen with a printed linear design in white. The jumpsuit is a trendy and popular style. It is sleeveless and flares out over the hips to a wide leg. It has on seam side pockets and falls to the lower calf. When standing, it resembles a long dress.
Made in Italy. 1
00% Linen. Machine wash cold, tumble dry low heat. 
This style's sizing runs differently than other Transparente fashions. Although it flares and is very generous through the hips, it opens at the top with a single button closure at the back of the neck. This is the opening that I am using for the hip measurement as you will step into it to put it on. 

Measurements: 
Size S - bust, 38 inches around; hip, 42 inches around; length, 53 inches
Size M - bust, 40 inches around; hip, 44 inches around; length, 53 inches 
Size L - bust, 42 inches around; hip, 44 inches around; length, 54 inches 
Size XL - bust, 46 inches around; hip, 47 inches around; length, 54 inches