Transparente Sleeveless Dress - Size 1 - LAST ONE!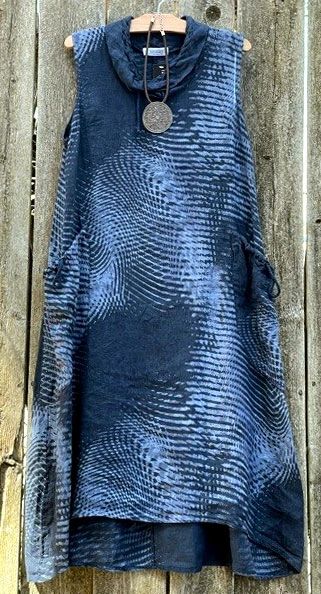 Beauty Has No Size, Beauty Fits All

Transparente is a European plus size fashion line, inspiring women to inspire the world. 
Designed in Germany, Transparente cultivates an avant-garde style through trendy fabrics and innovative designs that satisfy women of all shapes. Truly ageless and timeless fashion. This is a fabulous sleeveless dress made in a navy linen with a printed linear design in pale blue. It has a roll neck and slouchy side pockets with draw cording. The dress falls past the knee with a hi-lo hemline.
Made in Italy. 1
00% Linen. Machine wash cold, tumble dry low heat. 
Size S - bust, 40 inches around; hip, 46 inches around; length, 42.5 inches (center front)