Ralston Teres Tunic (Size M fits up to XL)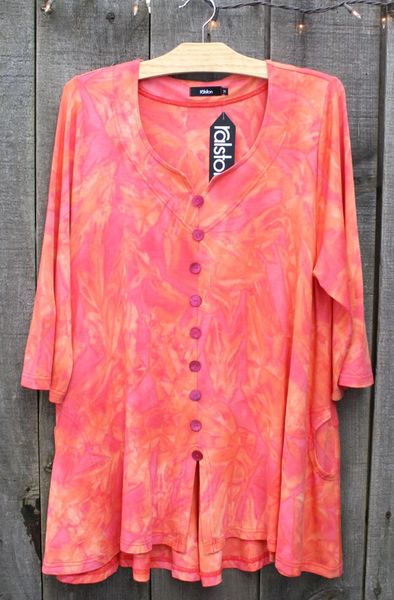 We just love Ralston clothing designs. Comfortable materials and shapes are an essential part of this collection from Sweden. These easy-to-wear and care for garments are great for travel. They come in an array of fabrics and colors, which can be easily mixed and matched to create the perfect outfit. These extraordinary clothes are timeless and personal. Express your individuality with sophistication!
The Teres Tunic is gorgeous in a watercolor palette of orange and melon.  This is an easy to wear style. Beautifully elegant. It has a v-neck, 3/4 sleeves and front pockets. There is decorative button detailing down the front (decoration only, doesn't open) with a 6-inch center slit at the front. It falls in an aline to a gently curved, hi-lo hemline at mid to lower-thigh. Luxurious feel in a cotton/modal blend. Machine wash cold, dry flat. Comfortably sized - Size M fits up to XL.