Ralston Ezra Sleeveless Tunic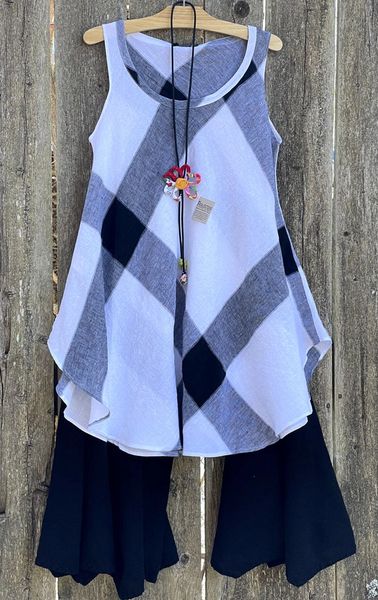 Ralston Clothing is a favorite here at the Cheshire Cat. With a long history of design excellence spanning more than 20 years, this modern brand offers exquisitely fabricated, comfortable fabrics in stunning designs that effortlessly complement a variety of shapes and sizes.  Created by Linda Ralston Ooms, a Swedish fashion designer, the brand emphasizes easy to wear clothing in modern, playful, yet sophisticated styles. Despite the casual nature of the clothing, the timeless designs and materials are meant to last and easy to mix and match for endless combinations. The aesthetic of Ralston fashion encourages and inspires creative combinations allowing you to express your individuality with ease.
For those looking to create a bold and bright look, Ralston is your go-to for stunning designer women's clothing. For clothing that feels as great to wear as it looks, you will need to look no further than Ralston for comfortable yet luxurious fabrics and flattering shapes coming together to create a stunning silhouette. Expect subtle pieces with unexpected twists, from eye catching button detailing to unusual patterns and asymmetric finishes.
The Ralston Ezra sleeveless tunic in a stunning bias cut, black and white large check linen features a scoop neckline and full, rounded hem. A beautiful tunic for a warm summer day with linen trousers but also lovely worn with a black or white T shirt under. A bold and stylish tunic, add a splash of color with some jewelry for a playful look.

Measurements:
Size S - bust 43 inches around; hip 76 inches around; length 35.5 inches
Size M - bust 44 inches around; hip 82 inches around; length 38 inches
Size L - bust 49 inches around; hip 88 inches around; length 38.5 inches