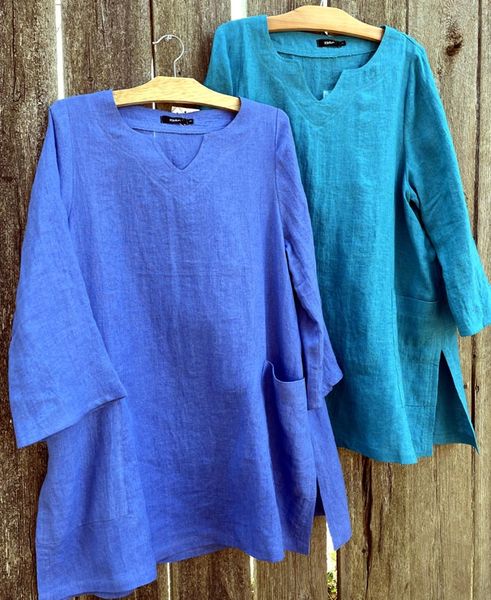 Ralston Clothing is a favorite here at the Cheshire Cat. With a long history of design excellence spanning more than 20 years, this modern brand offers exquisitely fabricated, comfortable fabrics in stunning designs that effortlessly complement a variety of shapes and sizes.  Created by Linda Ralston Ooms, a Swedish fashion designer, the brand emphasizes easy to wear clothing in modern, playful, yet sophisticated styles. Despite the casual nature of the clothing, the timeless designs and materials are meant to last and easy to mix and match for endless combinations. The aesthetic of Ralston fashion encourages and inspires creative combinations allowing you to express your individuality with ease.
For those looking to create a bold and bright look, Ralston is your go-to for stunning designer women's clothing. For clothing that feels as great to wear as it looks, you will need to look no further than Ralston for comfortable yet luxurious fabrics and flattering shapes coming together to create a stunning silhouette. Expect subtle pieces with unexpected twists, from eye catching button detailing to unusual patterns and asymmetric finishes.
Refresh your everyday wardrobe with the Ralston Marja tunic. Crafted in linen for a comfortable, lightweight feel, this casual tunic top is designed for a relaxed fit with its draped silhouette. It features a round neckline with cutout V detail, front pockets, and laid-back 3/4 sleeves. Wear with linen trousers and sandals for an effortless off-duty look.
Measurements:
S - bust 43 inches around; hip 52 inches around; length 32.5 inches
M - bust 46 inches around; hip 56 inches around; length 33 inches