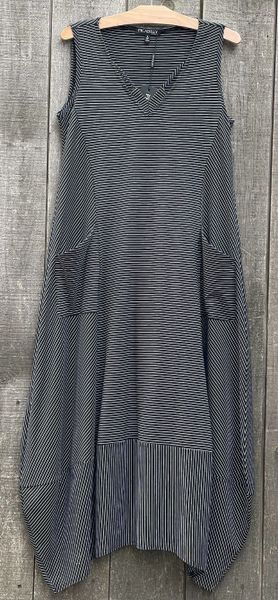 Signature Style. New Attitude. Effortlessly Chic.
Picadilly's clothes are designed with the modern woman in mind, created to be worn at home, on-the-go, or dressed up. Easy to wear, yet still fashionable. For the woman who feels age is just a number – it doesn't define who she is. Picadilly's unique style is designed for today's independent, confident and active women. Manufactured in Ontario, Canada.
A fresh new design highlights this V-Neck Bubble Dress, while the cozy stretchy fabric blend adds the ultimate all-season appeal. This dress features little details like the cut-out neckline and oversized pockets that take it's cuteness to new levels. Falls to mid-calf. 47% Rayon/ 47% Cotton/6% Spandex. Machine wash cold, hang to dry.

Measurements:
Size S - bust, 37 inches around; hip, 48 inches around; length, 47.5 inches (front center)
Size L - bust, 42 inches around; hip, 52 inches around; length, 48 inches (front center)
Size XL - bust, 44 inches around; hip, 54 inches around; length, 49 inches (front center)
Size XXL - bust, 47 inches around; hip, 58 inches around; length, 49 inches (front center)