Parsley & Sage Melodie Pant - Size M - LAST ONE!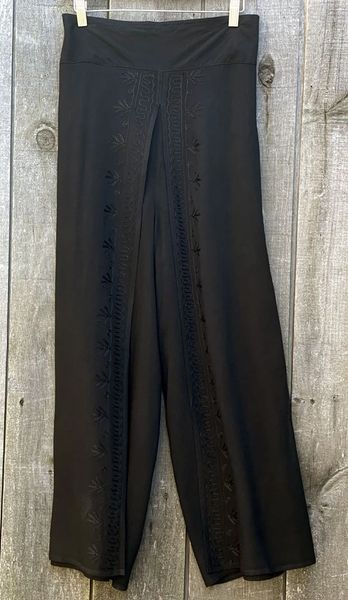 Feel the WOW! Parsley and Sage creates artistically inspired, handmade garments for women of all shapes in sizes S, M, L, XL and plus sizes 1X, 2X & 3X. Made from old fashioned tailoring rather than mass production, these uniquely styled tops are set apart due to their personal style and energizing prints. The garments are made from handwoven fabrics which add both to the character as well as the style and beauty of each piece. Made from cotton, rayon and other fabric blends these distinctive tops are comfortable to wear and express a casual elegance.
These are the coolest pants ever! They feel divine and are so easy to wear. With a flat front and elastic back waist, they're super comfy. Here's the fun part. Each leg wraps around to to the front to cover a side slit open to the lower thigh that makes these pants very airy and cool to wear. Falls to the ankle. 100% Rayon. Hand wash cold, line dry.
Measurements at the waist are taken flat and unstretched:
S - waist 28 inches around; hip 40 inches around; inseam 26 inches; rise 15.5 inches
M - waist 30 inches around; hip 44 inches around; inseam 26 inches; rise 16.5 inches
L - waist 33 inches around; hip 46 inches around; inseam 26 inches; rise 16.5 inches
XL - waist 35 inches around; hip 48 inches around; inseam 26.5 inches; rise 17 inches
1X - waist 39 inches around; hip 50 inches around; inseam 26.5 inches; rise 17 inches
2X - waist 43 inches around; hip 54 inches around; inseam 26.5 inches; rise 18 inches