Parsley & Sage Iona Tunic - Size 1X - LAST ONE!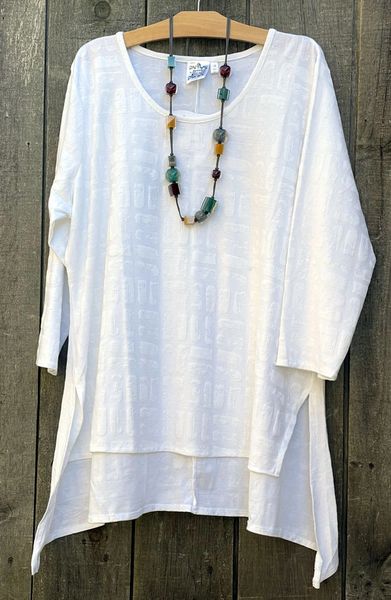 Feel the WOW! Parsley and Sage creates artistically inspired, handmade garments for women of all shapes in sizes S, M, L, XL and plus sizes 1X, 2X & 3X. Made from old fashioned tailoring rather than mass production, these uniquely styled tops are set apart due to their personal style and energizing prints. The garments are made from handwoven fabrics which add both to the character as well as the style and beauty of each piece. Made from cotton, rayon and other fabric blends these distinctive tops are comfortable to wear and express a casual elegance.
A lovely tunic in brilliant white in a textured cloth. This tunic features a scoop, 3/4 sleeves and hi-lo hemline with side slits. Falls to mid-thigh at the front. 100% Cotton. Machine wash cold, tumble dry low.
Measurements:
1X - bust 50 inches around; hip 53 inches around; length 28 inches (center front)
2X - bust 54 inches around; hip 60 inches around; length 28.5 inches (center front)