Parsley & Sage Coco Dress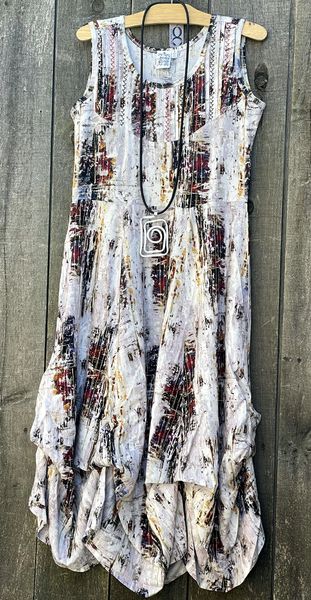 Feel the WOW! Parsley and Sage creates artistically inspired, handmade garments for women of all shapes in sizes S, M, L, XL and plus sizes 1X, 2X & 3X. Made from old fashioned tailoring rather than mass production, these uniquely styled tops are set apart due to their personal style and energizing prints. The garments are made from handwoven fabrics which add both to the character as well as the style and beauty of each piece. Made from cotton, rayon and other fabric blends these distinctive tops are comfortable to wear and express a casual elegance.
This spectacular sleeveless sundress in a colorful modern print has exquisite details. The top has embroidery and pintucking at the yoke. The hemline can be worn straight and long or it is convertible to a bubble, balloon effect with hidden ties. This dress is sure to become a favorite all summer long! 58% Cotton/37% Rayon/5% Spandex. Machine wash cold, tumble dry low.
Measurements:
S - bust, 38 inches around; waist, 34 inches around
M - bust, 39 inches around; waist, 36 inches around
L - bust, 43 inches around; waist, 40 inches around
XL - bust, 46 inches around; waist, 42 inches around
1X - bust, 49 inches around; waist, 47 inches around
2X - bust, 52 inches around; waist, 51 inches around