Papa Mixed Mesh Long Cardi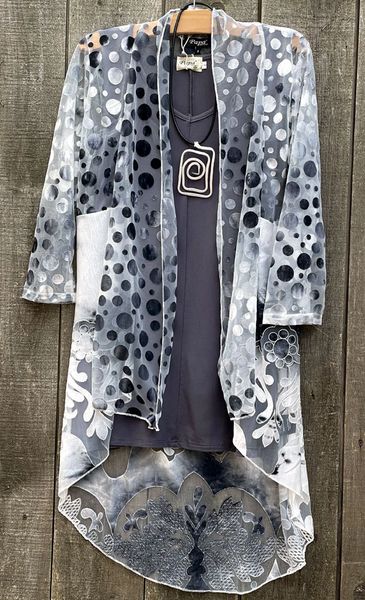 Papa manufactures high-end and eco-friendly apparel. 
Based on a simple philosophy to be innovative, responsible, and sustainable, Papa Vancouver is a brand that cares. Their vision from the very beginning has been constant - to make the world a better place so we try to bring the latest women's fashion clothing online made with bamboo fabric. 
We believe in taking a step for nature that will change the world, save the environment, and reflect our brand in the same concept. 
Absolutely fabulous for that special occasion or just because, you'll fall in love with this spectacular open front, 3/4 sleeve cardi.
Falls to mid-thigh in the front and to the knee at the back. 65% Cotton/35% Polyester. Made in Canada. Hand wash, hang to dry.


Shown with: Papa Sleeveless Tunic
Measurements:
Size S - bust, 39 inches around; hip, 43 inches around; length, 43 (front center)
Size M - bust, 40 inches around; hip, 44 inches around; length, 43 (front center)
Size L - bust, 46 inches around; hip, 47 inches around; length, 43 inches (front center)
Size XL - bust, 48 inches around; hip, 49 inches around; length, 43 inches (front center)
Size XXL - bust, 50 inches around; hip, 51 inches around; length, 46 inches (front center)