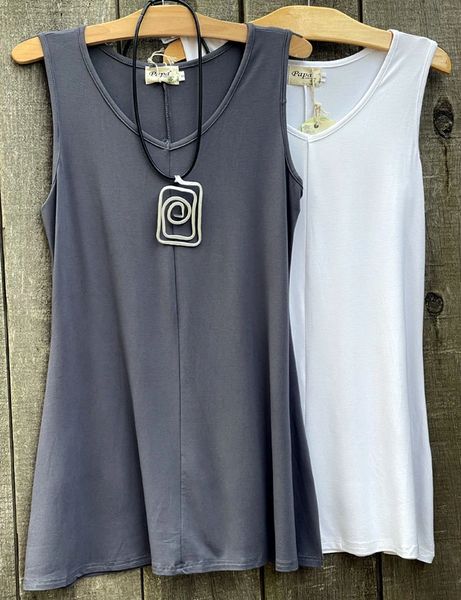 Papa manufactures high-end and eco-friendly apparel. 
Based on a simple philosophy to be innovative, responsible, and sustainable, Papa Vancouver is a brand that cares. Their vision from the very beginning has been constant - to make the world a better place so we try to bring the latest women's fashion clothing online made with bamboo fabric. 
We believe in taking a step for nature that will change the world, save the environment, and reflect our brand in the same concept. 
Wonderfully comfortable in a luscious bamboo, these tanks are a must have base layer. 
Bamboo is one of the fastest growing plants on Earth and it absorbs carbon dioxide and releases 35% more oxygen into the atmosphere than hardwood trees. In addition to being environmentally friendly, bamboo fabric is odor-resistant, absorbent, hypoallergenic, sustainable and regulates body temperature! Straight silhouette. Falls to upper thigh. 95% Bamboo/5% Spandex. Made in Canada. Machine wash cold, hang to dry.
Measurements:
Size S - bust, 38 inches around; hip, 41 inches around; length, 29.5 (front center)
Size M - bust, 39 inches around; hip, 44 inches around; length, 31 (front center)
Size L - bust, 40 inches around; hip, 45 inches around; length, 31 inches (front center)
Size XL - bust, 42 inches around; hip, 48 inches around; length, 32 inches (front center)
Size XXL - bust, 44 inches around; hip, 52 inches around; length, 32.5 inches (front center)