OC Marco Convertible Necklace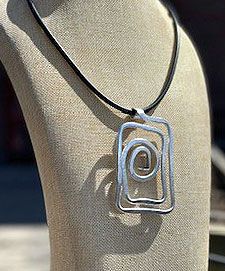 Contemporary, Bold, Statement Pieces. All OC Jewelry designs are made by Ofelia Cisneros and her team of Artisans in Salinas, California.  One unique feature offered on many necklaces is the Convertible-- all Convertible necklaces come with a 23" necklace cord + a 17" extension.  The jewelry is bold but very light weight. Lightweight aluminum and strong steel, finished with designer colors, are bent and joined into big, bold jewelry pieces for a strong artistic statement. Each item will vary a little bit within the style, be prepared to go WOW when you see it on you for the first time.
The Marco Necklace is made from lightweight aluminum twisted into a modern, geometric shape. Gorgeous design. Pendant measures 2.4" wide by 3.75" tall. Convertible necklace - 23" rubber cord and 17" extension.