Noblu Salt & Peppa Stripe Tunic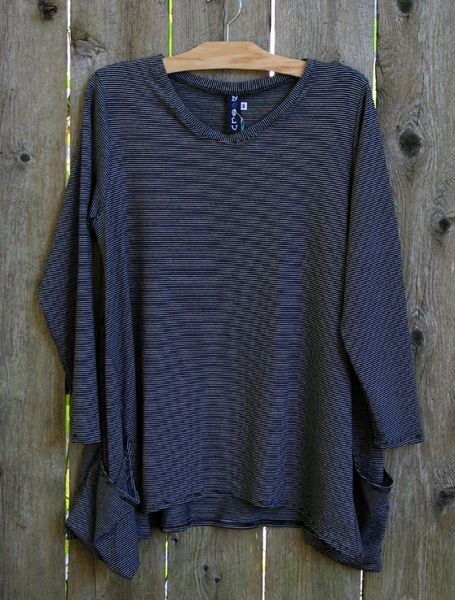 Noblu (a happy collection of separates) are designed in Sonoma, California by Alexandra Ilyin and produced by an all-female company. NOblu means: "No blues." Freedom from restriction and confident individuality." Alexandra Ilyin loves her customer, and works hard to convey to her a license to have fun, to be unique and independent, to laugh and cherish life. Her designs all flow from that attitude. By choosing soft, comfortable, knit fabrics for easy care, lasting quality, and unique texture, Alex creates a sophisticated yet easy look for the woman of creativity and confidence.
The Salt & Peppa Stripe Tunic is a beautiful tunic in a black and white pinstripe. It has a scoop neck, fitted long sleeves and side pockets. This is an a-line tunic that falls to the top of the thigh. 97% Rayon/3% Spandex. Machine wash cold, lay flat to dry. CLICK ON DROP-DOWN MENU FOR MORE SIZES.