Match Point Tulip Capri Pant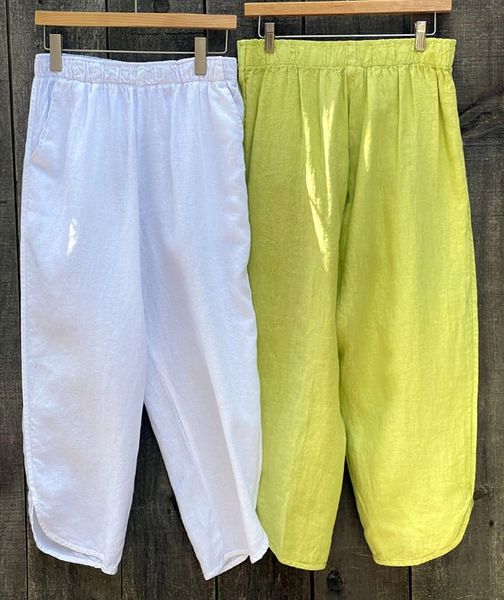 Match Point specializes in comfortably chic, 100% natural source linen garments. Linen is a breathable and elegant cloth resulting in timeless women's wear. All garments have gone through a special washing process garment dyeing. This process creates a sophisticated look that is easy and comfortable to wear and is not expected to shrink. The slight color variations or minor slubs (color shading) are characteristics of the fabric, giving each garment its natural beauty and comfort.
The Tulip Pant has an elastic waist and pockets. The loose fitting, narrow leg tapers slightly to the ankle and finishes with a rounded hem. Pairs beautifully with all your summer essentials! 100% Linen. Machine wash cold, tumble dry low.
Shown with: Inoah Tobby's Dream and Inoah Iris Duster
Measurements:
Small: waist, 30-36 inches; hip, 52 inches; inseam, 24 inches; rise, 14.5 inches
Medium: waist, 32-39 inches; hip, 54 inches; inseam, 25 inches; rise, 15 inches
Large: waist, 33-41 inches; hip, 56 inches; inseam, 25 inches; rise, 15 inches
XLarge: waist, 34-42 inches; hip, 58 inches; inseam, 25.5 inches; rise, 16 inches