Luca Vanucci Tuscany Dress - Size M - LAST ONE!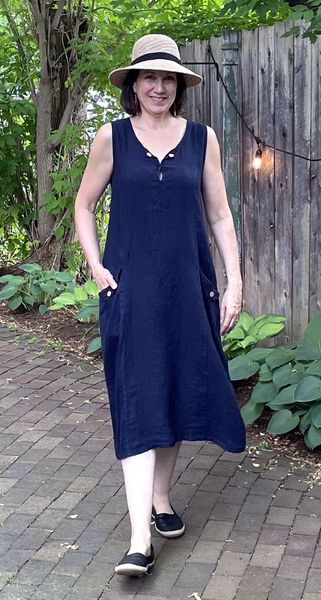 Luca Vanucci represents one of the finest traditions of the Italian fashion industry. Using beautiful raw materials like linen, one of the oldest fibers on Earth, all garments are designed and manufactured in Italy. Earth-friendly and easy to wear, the styling and attention to detail are exactly what you would expect from a leading Italian fashion company. Through the centuries, Italian design, skill, and craftsmanship have been renowned in the fashion industry.  "Made in Italy" in fashion is still synonymous with exclusivity, style, and high quality. 
Casual and chic, slip into a fantastic summer dress. Classic in navy, this dress features a v-neckline accented by contrasting buttons. In a super soft linen, the comfortable shape and flattering silhouette elongates the body. 100% Linen. Machine wash cold, hang to dry.
Measurements:
S - bust 39 inches around; hip 49 inches around; length 47 inches
M - bust 40 inches around; hip 50 inches around; length 47 inches
L - bust 42 inches around; hip 52 inches around; length 47 inches
XL - bust 43 inches around; hip 53 inches around; length 47 inches