Lands Downunder Swirls of Sienna Tunic/Dress - Size S - LAST ONE!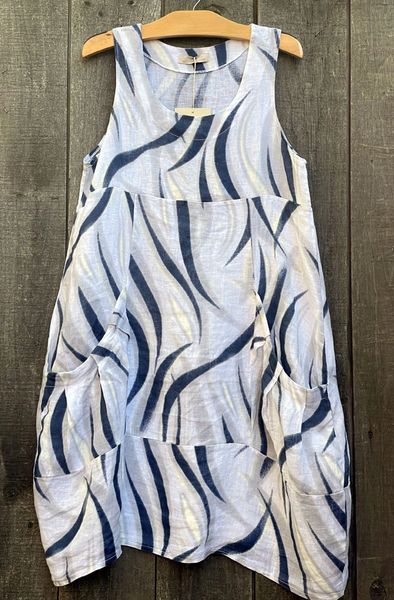 Here with Lands Downunder, color makes us happy. We feel that the art of living well deserves to be celebrated daily, so we think that our clothing should reflect the art of personal style and expression. Lands Downunder is known for their soft textiles woven in Italy and New Zealand (down under!) and for offering a bit of flair for your personal style. It's a hectic world out there, so we believe in the value that comfort and self-expression adds to your life. Enjoy exploring new ways to add color, layer your look and live well.
This super soft linen, sleeveless dress features front pockets, a scooped neckline and a tulip shape as it tapers in at the bottom hemline for a gorgeous, relaxed silhouette. 100% Linen. Made in Italy. Machine wash cold, hang to dry.
Measurements:
S - bust 38 inches around; hip 52 inches around; length 37 inches
M - bust 40 inches around; hip 52 inches around; length 37 inches
L - bust 41 inches around; hip 54 inches around; length 39 inches