Jess & Jane Scrolls Tunic - Size M - LAST ONE!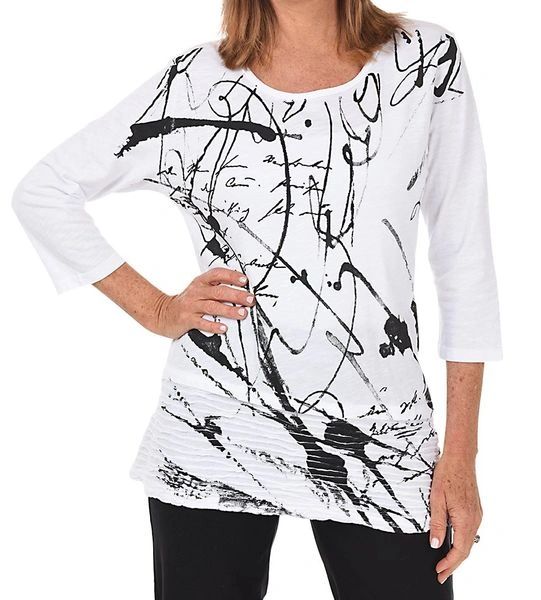 From whimsical to abstract in mineral washed colors, Jess & Jane brings you affordable and stylish casual wear. Specializing in comfortable classic cotton prints, mineral washed tunics and leggings, wavy cardigans & soft knit essentials, lounging never looked so good. Made in USA.
This tunic is a new design in brilliant white with a wavy hemline dipping at one hip. The border of the hem is made of wavy fabric for a non cling fit. This popular print looks like it was written with a fountain pen with little scribbles and ink blots here and there. Falls to the top of the thigh with a slit on one side. 100% Cotton. Machine wash cold, tumble dry low.
Measurements: 
Size S - bust, 39 inches around; hip, 43 inches around; length, 26.5 inches (center front)
Size M - bust, 40.5 inches around; hip, 44 inches around; length, 27 inches (center front)
Size L - bust, 42 inches around; hip, 46 inches around; length, 27 inches (center front)
Size XL - bust, 44 inches around; hip, 48 inches around; length, 28 inches (center front)
Size 1X- bust, 48 inches around; hip, 50 inches around; length, 29 inches (center front)
Size 2X - bust, 50 inches around; hip, 52 inches around; length, 29 inches (center front)