Inoah Tobby's Dream Hi-Lo Dolman Sleeve Top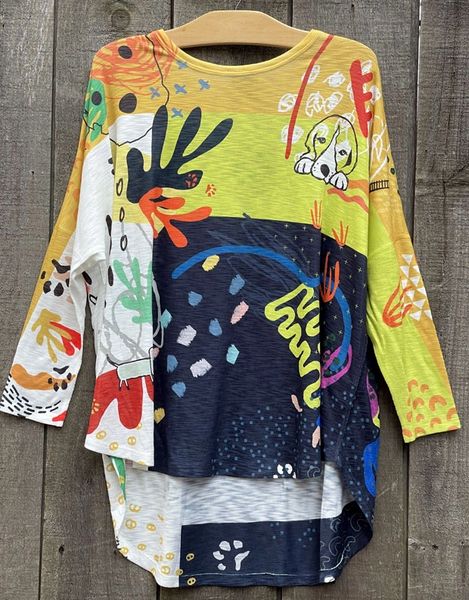 Be unique, be INOAH! Fashionable, elegant, versatile clothing in Inoah's own eccentric style will put a smile on your face. You will find contemporary, individually styled tops and tunics that draw their distinctive designs from contemporary prints, nostalgia, plants, and animals. The printing of these tops utilizes a blend of colors and shading techniques to accentuate their unusual designs as wearable art. Perfect for year-round use, the lightweight fabrics in synthetic blends and brushed knits offer a lot of breathability making them just as comfortable in warm weather climates.
Whimsical and fun in brilliant color, we love this burnout fabric top. Forgiving, relaxed fit with a drop shoulder and long sleeves. Hi-lo hemline falls to the upper thigh at front and longer at back. Synthetic blend. Hand wash, lay flat to dry. Made in the USA.
Measurements: 
Size S - bust, 52 inches around; hip, 50 inches around; length, 26 inches (center front)

Size M - bust, 54 inches around; hip, 52 inches around; length, 26 inches (center front)

Size L - bust, 56 inches around; hip, 54 inches around; length, 26 inches (center front)

Size XL - bust, 58 inches around; hip, 56 inches around; length, 27.5 inches (center front)