Handcrafted Felted Soap - Lavender, Cucumber & Calendula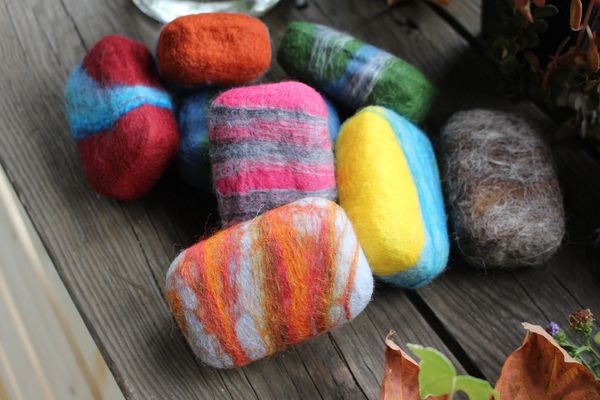 Individually crafted soaps are handmade in Vermont. Rustic, coarse sheep's wool is locally sourced in Jericho, VT along with suppliers of Merino wool coming from New Zealand and Europe. The wool is hand-dyed and James and Bekah of Barn Owl VT enjoy coming up with unique, innovative designs to decorate the scented bars. This makes a perfect gift for anyone in your life. Felted colors vary; let us choose for you. Each soap bar is approximately 4 oz.

Creamy Clay: You will love the blend of Cedar wood, Orange, Patchouli and Clove in this bar. Made with pure essential oils. This bar is made with Bentonite Clay, which absorbs excess oil without drying out your skin!

Cucumber & Calendula: This bar is made with fresh cucumber juice and calendula, both very soothing. Calendula is known to have anti-inflammatory properties.
Lavender: This Lavender felted soap bar is brought to you in part by our collaboration series with Pure Essentials VT.  A wonderful soap maker here in Vermont.  Expect nothing less than a superb smelling soap with quality felted wrap to give you a unique scrubbing experience.