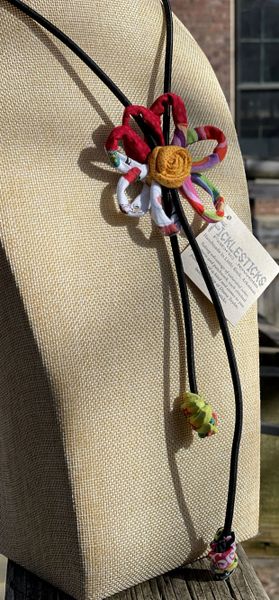 My favorite new jewelry find! And just in time for summer - how fun are these?!  These come from the workshop of a quilter who turned a colorful craft idea into a jewelry making business. Made from strips of colorful cloth tubes filled with wire, they are wound into various shapes to create fun and fabulous necklaces, earrings and pins.
The daring Daisy takes a ride on a bungee-cord bolo! The adjustable bolo design allows the Daisy to move freely up and down the bungee cord. Each bungee tip is finished with coordinating 'feet' that compliment the Daisy. Looks great dressed up, or dressed down! 
Approximately 23 in. long (46 in. circumference)
Daisy is approximately 3 in. diameter
Machine washable, dry in a lingerie bag.