Ficklesticks Jawbreaker Slider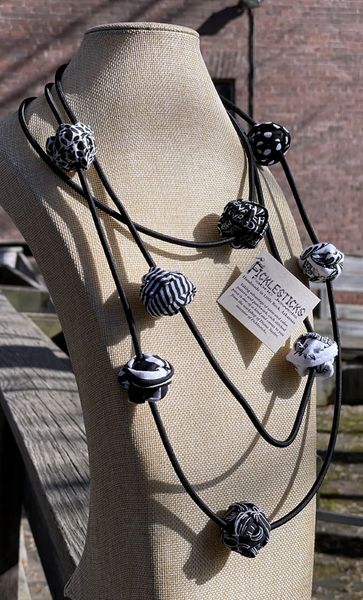 My favorite new jewelry find! And just in time for summer - how fun are these?!  These come from the workshop of a quilter who turned a colorful craft idea into a jewelry making business. Made from strips of colorful cloth tubes filled with wire, they are wound into various shapes to create fun and fabulous necklaces, earrings and pins.
The Jawbreaker slider has 9 Jawbreakers on a black bungee cord! These fabric balls are about the size of a golf ball, and they are held together by the wire inside. This long necklace can be doubled and tripled over (as pictured). You can also wear it open for a long statement piece! The Jawbreakers slide up and down the bungee cord, so you can arrange them however you like! 
Approximately 45″ long (90″ circumference)
Machine washable, dry in a lingerie bag