Fenini Hooded Jacket - Size XL - LAST ONE!!!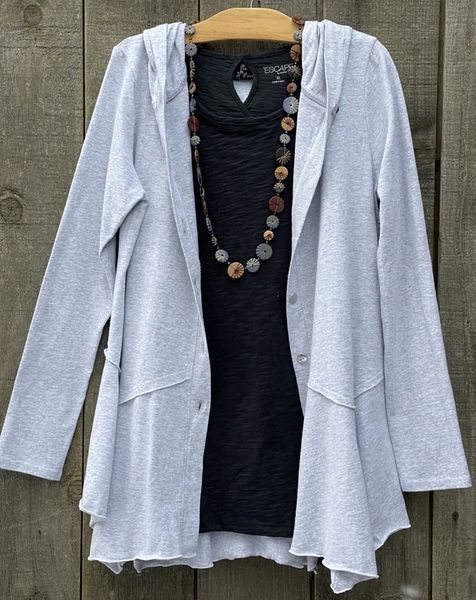 We LOVE Fenini for their exceptional, quality cotton. This clothing just doesn't wear out. The colors don't fade and the fit stays true. Always comfortable and always in style. The silhouette of FENINI style is simple and clean, yet design details are added to make FENINI unique and interesting, suitable for work or play. It is for women who enjoy life, fun, art and beauty.
Soon to become your favorite grab and go jacket, this sweet piece in a mid-weight cotton is perfect for those days when you need a little extra layer. The neutral heathered grey will go with just about everything. We love the details on this jacket. It has long sleeves and buttons up the front. The zig zag raw edge detailing highlights the inset pieces of the wide hem that give this jacket a feminine flare. Falls to mid-thigh. 100% Cotton. Made in the USA. Machine wash cold, tumble dry low. Comfortably sized; fits true.