Fenini Side Pocket Crop Pant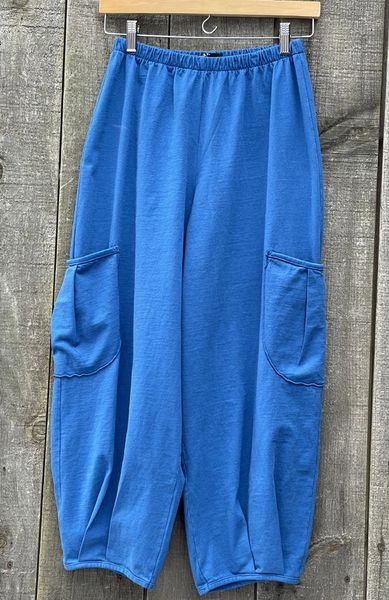 We LOVE Fenini for their exceptional, quality cotton. This clothing just doesn't wear out. The colors don't fade and the fit stays true. Always comfortable and always in style. The silhouette of FENINI style is simple and clean, yet design details are added to make FENINI unique and interesting, suitable for work or play. It is for women who enjoy life, fun, art and beauty.
Comfy and a little funky, Fenini's cropped pant is done in a bright denim blue, mid-weight cotton knit. With an elastic waistband, two low slung side pockets and subtle lantern-shaped legs, these easy-fitting pants are a customer favorite. Falls to lower calf. 100% Cotton. Made in the USA. Machine wash cold, tumble dry low. Fits true to size.
Measurements:
Small: waist, 23 inches; hip, 48 inches; inseam, 22 inches; rise, 13 inches.
Medium: waist, 25 inches; hip, 50 inches; inseam, 22.5 inches; rise, 13.5 inches.
Large: waist, 26 inches; hip, 52 inches; inseam, 22.5 inches; rise, 13.5 inches.
XLarge: waist, 28 inches; hip, 54 inches; inseam, 23 inches; rise, 14 inches.
XXLarge: waist, 30 inches; hip, 56 inches; inseam, 23.5 inches; rise, 14.5 inches.
2X: waist, 33 inches; hip, 58 inches; inseam, 24 inches; rise, 14.5