Snapdragon & Twig Delphina Dress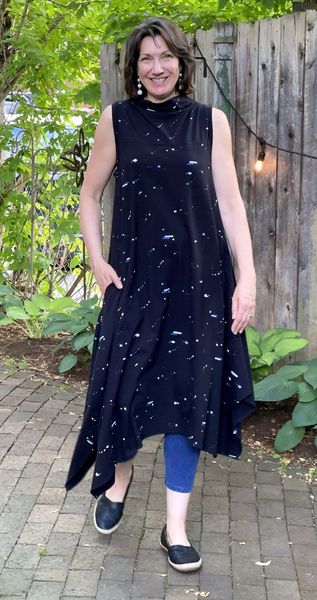 We absolutely love this dress! So easy to wear ~ simple yet sophisticated. The Delphina Dress from Snapdragon & Twig is a super comfy, cotton knit, maxi dress. Very cool space print design on black. Details include a handkerchief hemline that falls to asymmetric points, a face framing mock neckline, and a seam just above the chest. On seam side pockets for the perfect finish. Wear it by itself or layer with some leggings or fun capri pants. 96% cotton, 4% spandex. Machine wash cold, tumble dry low. Generously sized.
S Chest 39", Length (center) 46.5"
M Chest 41", Length (center) 46.75"
L Chest 43", Length (center) 47"
XL Chest 45", Length (center) 47.25"