3 Potato Knit Vest - Size S/M - LAST ONE!!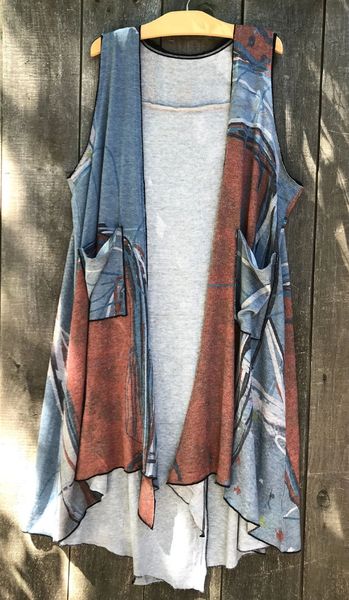 3 Potato Clothing has a unique style of Artistic Prints in new and easy to wear styles. Comfort and quality is a priority for their customers. All of their products are made with high quality fabrics. Styles are unconstructed, loose and flowy. This sleeveless vest is a gorgeous piece. When paired with the 3 Potato Dress, it makes a stunning outfit perfect for the transitional weather of Fall. This is an open front vest with two large front pockets. It falls in a beautiful hi-lo scoop to the back of the calf. The back of the vest overlaps so that there is a long open seam for spectacular flowability. Rayon blend. Machine wash cold, hang to dry. Comfortably oversized. S/M fits up to L; M/L fits up to XL; L/XL fits up to 1X.
Please note: Due to the artistic nature of the fabric, exact patterning may vary.
Shown with: 3 Potato Dress