3 Potato Hi-Lo Tunic - more options!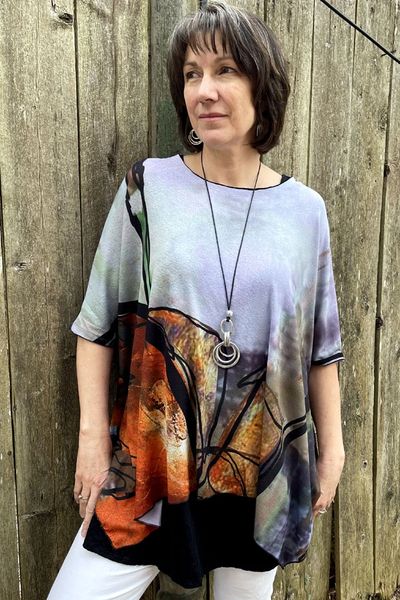 3 Potato adorns women with an artist's touch. Designed in California, the clothing is loose cut and drapes beautifully for an easy to wear style that flows across the body. 3 Potato chooses striking, colorful prints that coordinate well with solid colors. Earth tones dominate in the clothing, with some jewel colors glimmering here and there. The loose and flowing shirts, tunics and jackets are made of lightweight, easy-to-wash viscose. Some of the fabrics use patterns the owner painted herself, other prints she modified or picked for their striking aesthetic.

This gorgeous tunic has a round neck and elbow length sleeves. Attention to details make this line really special. The hem is set off by a black whipstitch. This tunic falls in a hi-lo a-line shape to mid-thigh in the front and knee at the back. Really lovely, dramatic drape. Rayon blend. Machine wash cold, hang to dry.
Measurements: 
Size S/M - bust, 68 inches around; hip, 90 inches around; length, 27 inches (center front); sleeve opening, 10 inches

Size M/L - bust, 70 inches around; hip, 92 inches around; length, 28.5 inches (center front); sleeve opening, 10.5 inches

Size L/XL - bust, 74 inches around; hip, 100 inches around; length, 29 inches (center front); sleeve opening, 11.5 inches